Flores Eco-Tours & Trekking
Route : Labuan Bajo – Sano Nggoang – Tado – Ruteng – Bajawa - Maumere
Duration : 10 Days / 9 Nights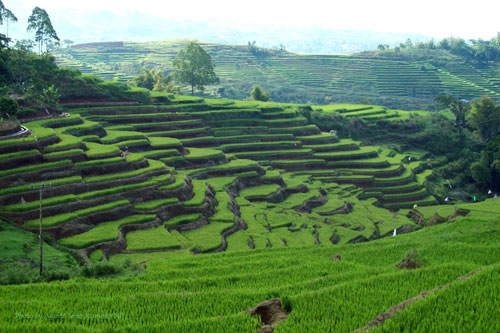 Day 1: LABUAN BAJO – MBELILING – SANO NGGOANG (L/D)

Departure from your Hotel/Boat in Labuan Bajo by car to Roe village, about 21 km from Labuan Bajo, from here start your 3 hours trekking through Mbeliling forest to Werang. On the way you can see The Flores endemic birds i.e.: Flores Hanging-parrot Loriculus flosculus and Flores Crow Corvus florensis, and many other birds, explore Nature pure, rain forest and contact with local people, enjoy your time by relaxing at Cunca Rami Waterfall. Lunch will be provided by local people in Werang, Afternoon drive to Sano Nggoang (This area consists of slopes and flat ridges which are formed by volcanic activity. There is a crater lake in the active mountain of Wae Sano). Dinner and Overnight at Local family house.
Day 2: SANO NGGOANG – TADO (B/L/D)

We start our tour by walking around the deepest crater lake Sano Nggoang, feel close with nature, and local people. Afternoon drive to Tado community based eco tourism. Here you can participate eco tourism activities by keeping in touch with the local people, joining their activities or can do request some program i.e.: Ancient Rituals, Jungle survivals, or Traditional artistantry and crafts.
Day 3: TADO – DENGE VILLAGE (B/L/D)

After breakfast, by truck to discover southern part of Manggarai, drive through the southern coastal of Nangalili, relaxing and swimming in Dintor before drive up to Denge (some stops are possible en route). Dinner and overnight at Family house in Denge.
Day 4: DENGE – WAE REBO (B/L/D)

After light breakfast, start your 4 hours tracking to Wae Rebo village. The Authentic Housing of Manggarai, located about 1000m above sea level, in the middle of mountain. All are traditional houses, with really high roofs and they are on 5 levels – the top four are mainly used for storage and all the living areas are on the bottom. We will stay in a house with 8 families. Here you have chance to keep in touch with the people and learn by seeing, asking, and feeling their culture, life and activities. Sleeping mattresses will be provided. Dinner and overnight will be at the local villager's house.
Day 5: WAE REBO – RUTENG (B/L)

Breakfast, then trek down to Denge village, lunch will be provided in Denge, after lunch drive up to Ruteng with some stops in Narang with its rice terrace and beautiful scenery. Dinner and Overnight at Dahlia Hotel or MBC Susteran Ruteng.
Day 6: RUTENG – BAJAWA (B/L)

After breakfast departure from your hotel to visit Golo Curu with its very nice scenery from Ruteng town and rice field, back to Ruteng and visit Ruteng Puu before you leave for Bajawa, on the way stops in Rana mese lake, Aimere and Bena Traditional village from Ngada. Dinner and Overnight at Bintang wisata
Day 7: BAJAWA (B/L)

Early morning at 5 am drive up to Wawo Muda volcano and trekking about 1.5 hours to the top, back to your hotel afternoon visit Soa hot spring. Dinner and Overnight at Bintang Wisata
Day 8: BAJAWA – MONI (B/L)

Departure from you hotel, first visit Wogo traditional village, Nanga Panda beach to see the blue stones, lunch in Ende. After lunch drive to Moni, soft trekking will be taken in Detusoko. Dinner and overnight at Flores sare hotel moni or Moni eco Lodge.
Day 9: MONI – KELIMUTU LAKE – MAUMERE (B/L)

Early morning at 04.00 drive up to the three-colored lake of Kelimutu, one of the most specular and mysterious sight Indonesian. Back to your hotel for breakfast, after breakfast visit Jopu traditional village, and than proceed to Paga and Maumere. Dinner and overnight at Sea world club Maumere.
Day 10: MAUMERE – DENPASAR (B)

Morning free program at your hotel before transfer to Frans Seda airport for the flight back to Denpasar.
End of Service